Cast
Timothée Chalamet
Paul Atreides
(Actor)
Rebecca Ferguson
Lady Jessica
(Actor)
Dave Bautista
Glossu 'Beast' Rabban / Beast Rabban
(Actor)
Stellan Skarsgard
Baron Vladimir Harkonnen
(Actor)
Charlotte Rampling
Gaius Helen Mohiam
(Actor)
Oscar Isaac
Duke Leto Atreides
(Actor)
Latest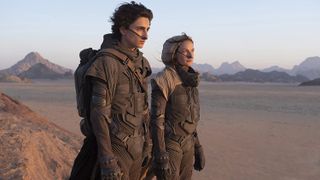 'Dune' trailer brings the hype for Denis Villeneuve's long-awaited sci-fi epic
Dune, the long-awaited sci-fi movie from director Denis Villeneuve, is not technically a summer blockbuster, but the newly released trailer may be talked and dissected as much as one would be. Such is the case when you're adapting a classic science fiction novel, have an A-list cast with stars like Timothée Chalamet, Zendaya and Oscar Isaac, and you have giant sand worms (who again mak...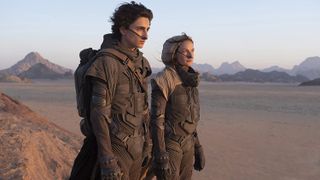 The full Dune trailer is here, and it's magnificent
There's not a whole lot to say about the first full trailer for Denis Villeneuve's version of Dune. It's an epic story. It's heady. There are a ton of characters, and a ton of ways this whole thing can go sideways. (All of this has happened before. And it will happen again.)  But just watch this trailer. Watch it twice. Put it on a third time and tell me you're not ho...
Similar Productions