Cast
Dan Harmon
(Creator)
Dan Harmon
(Executive Producer)
Keith Crofford
(Executive Producer)
J. Michael Mendel
(Producer)
Ollie Green
(Producer)
Mike Lazzo
(Executive Producer)
Latest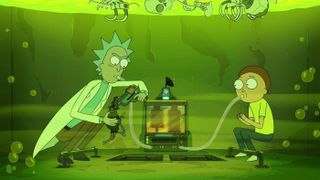 Is 'Rick and Morty' on Netflix? — How to watch 'Rick and Morty'
Is Rick and Morty on Netflix?  Rick and Morty is the famed Adult Swim animated comedy from Dan Harmon and Justin Roiland. The show follows the foul-mouthed Rick Sanchez as he drags his grandson Morty across the multiverse on his ridiculous adventures. With Rick and Morty Season 5 on its way soon, you might be planning a rewatch of the show right from the beginning. If so, you might well be wo...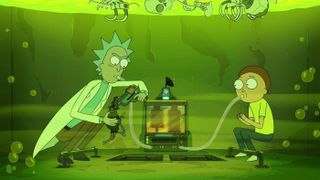 'Rick & Morty' Season 4 Blu-ray Review
2020 has taught us not to take anything for granted or assume that any plan will come to fruition, but let's be optimistic and note that Rick & Morty isn't even halfway through its planned run of 100 episodes. This is wonderful news for those who cannot get enough, though as I rewatched the season on the Blu-ray set, I couldn't help but think: how can they keep topping themselve...
Similar Productions